"Yeah sure but" – 38-year-old WWE Superstar responds to Bloodline member's claim about him and Jimmy Uso with picture of Roman Reigns
The Bloodline has had quite a turbulent 2023, with two members of the group turning on Roman Reigns. Sami Zayn and Jimmy Uso have turned on Roman Reigns at different points this year, and while one has been thrown out of the faction, the other has either already been or will be soon.
After spending most of last year getting to become a part of The Bloodline, Sami turned on Roman Reigns after he was told to assault Kevin Owens with a steel chair after a match. He was attacked by the entire faction, other than Jey, who would eventually give up on Zayn weeks later.
At Night of Champions, Jimmy Uso betrayed Reigns as well, hitting him with a superkick and costing him the tag team championship match against Sami Zayn and Kevin Owens. He was beaten down last week, with only Jey Uso's position on his brother's status remaining unclear.
Solo Sikoa recently posted a picture of The Bloodline from the days when Zayn was part of the group. In it, he had crossed out Jimmy Uso and Zayn, claiming the two were eliminated.
Zayn responded with a tweet saying, "Yeah sure but" in which there were two photos. One showed him posing with the tag title over Reigns, as the latter looked on at him after losing. The other showed Reigns getting hit with a superkick by Jimmy Uso.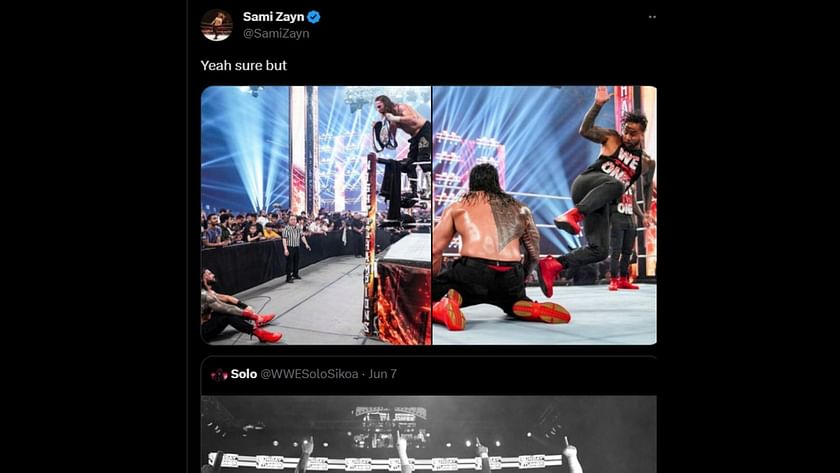 The message was clear. Although they might have been attacked and kicked out of The Bloodline, they had their moments over Reigns as well.
---
Another WWE veteran was hoping that Sami Zayn would get his win over The Bloodline and Roman Reigns
Zayn, while he did retain the tag title against Reigns and Sikoa, didn't have the best time in the months prior. He had even challenged Reigns for the Undisputed WWE Universal Championship and failed to win the titles.
Speaking on UnSKripted, Ken Anderson spoke about how Zayn should have won the gold from Reigns in front of the Canada crowd.
"I was really hoping for Sami Zayn. It just felt so good," said Ken Anderson.
It was a near-thing and fans almost thought that he could win, but in the end, Reigns still came away as champion on that occasion.
---
Who do you think will beat Reigns? Leave your thought in the comments section below.
Will Hulk Hogan step into a WWE ring again? We asked a WWE Hall of Famer here
Edited by Ashvinkumar Patil